We provide fast and affordable services for your locksmith needs.
Our Work
Change Locks/Rekey
Did you buy a new home? Lose your keys? Fire an employee? If so, your security is at risk! Changing your locks is a sure way to prevent unwanted persons from having access to your property. We can rekey your locks at a fraction of the price that it would cost for you to replace your locks entirely.
Lock Repair
Having a locksmith repair your lock can save you money from having to purchase a new one. This is ideal when repair costs do not exceed the cost of your lock. We can run a diagnosis and find out what the problem is. If it can be repaired we will bring your lock back to life!
Locked Out?
Getting locked out of your house or car can throw your whole day off. The last thing you need is to damage your vehicle or door. Call a professional to get you in safely. As a locksmith we always have a way in.
Car Key Replacement
Loosing your car keys is another way to disrupt your plans. Having a car key made by the dealership will require you to tow your vehicle to them. Being a mobile locksmith allows us to come to you and replace your car key on the spot, saving you money and the hassle.
Key Cutting
Whether you need house keys, commercial keys, do not duplicate keys or car keys cut, we have key machines in our mobile locksmith vans to take care of the job. We make sure our keys work in each lock. No need to go to the hardware store for sloppy copies.
Security Rienforcement
Do you fear for your homes safety? Then its time to beef up your security. Our Locksmiths can install a simple security latch or add a deadbolt to your door. Adding more layers of security will give you peace of mind while keeping your home safe.
Why Us?
Dedication to the locksmith craft
The locksmith industry is always changing. We study our industry to stay on top of the newest techniques and technology. Some may stray away from challenging obstacles. Grizzly Lock and Key is dedicated to over coming obstacles.
Five star Reputation
We maintain a five star reputation. Customers mention how affordable and efficient our locksmith service is. Our goal is to always go beyond your expectations. We are not satisfied until you are.
We are mobile
Being a mobile locksmith company eliminates all the hassle for the customer. No need to uninstall your locks to drop them off at a shop and no need to have your car towed to the dealership to make a key. We come to you!
Who We Are?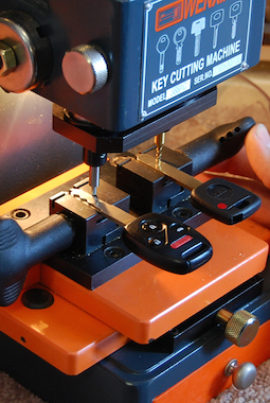 Grizzly Lock and Key is dedicated to providing great locksmith services to the San Diego County. We have been serving San Diego for years, helping people just like you.
Automotive Locksmith - We can help you with getting back into your car or with replacing your car keys.
Residential Locksmith - If you need to change your locks or get back into your home, we are here to help.
Commercial Locksmith - It is time to rekey your locks when your business's security is at risk. Call us at (858)444-0437
"Who are you and how did you get in here?"
"I'm a locksmith. And, I'm a locksmith."